Pennsylvania
T
E
A
M
Event
T

ogether Empowering Al‑Anon Members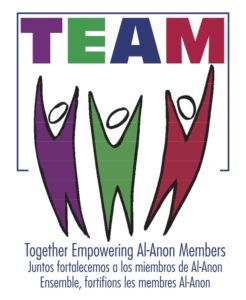 You've heard that one of the keys to recovery is service. Have you thought about taking on a service position, but are too afraid to try? Are you already in a service position and looking for tools to help you? Whether you are new to service or you've been in a position for a while, this TEAM Event is for you.
A TEAM event is a partnership between our Pennsylvania Area World Service Committee (AWSC) and the World Service Office (WSO). TEAM provides an opportunity for you to learn more about service and the Al-Anon program. The acronym TEAM stands for Together Empowering Al-Anon Members. When we work together, we can do that.
We will have workshops on handling obstacles, courage, spiritual giving, and more. Three members from the WSO will share their stories and how service played a crucial role in their recovery. Each of them will also lead a session during the day. The remaining sessions will be led by AWSC members in partnership with members of the WSO.
Please join us on September 28th in Plymouth Meeting, Pennsylvania for a full-day workshop of learning and recovery, as well as an opportunity to meet some individuals from the WSO and the Pennsylvania AWSC. This event will run from 9:00am until 4:30pm. Check-in will be 8:15am to 9:00am the day of the event. The cost of the event is only $25. Lunch is included with your registration and we will have beverages available throughout the day.
Online registration for the event is open through September 7th.
You may mail in your registration and check by using the Flyer/Registration form (Spanish).
All Al-Anon Family Group members are invited and encouraged to attend.
For those traveling far from home, hotel rooms are available at the DoubleTree Suites by Hilton Hotel, Philadelphia West, 640 Fountain Road, Plymouth Meeting PA, 19462 at the discounted rate of $135.00 plus taxes. All rooms have a king size bed and a pullout sofa. Guests will need to call the hotel at 610-834-8300 by August 30th and mention "TPA" in order to secure a room at that rate; or use the online direct reservation link.
If you have any questions or need more information, please contact us at [email protected] We look forward to seeing you in Plymouth Meeting in September!
2019 Pennsylvania TEAM Event


September 28, 2019




9:00 am - 4:30 pm


- Check-in will start at 8:15 a.m.