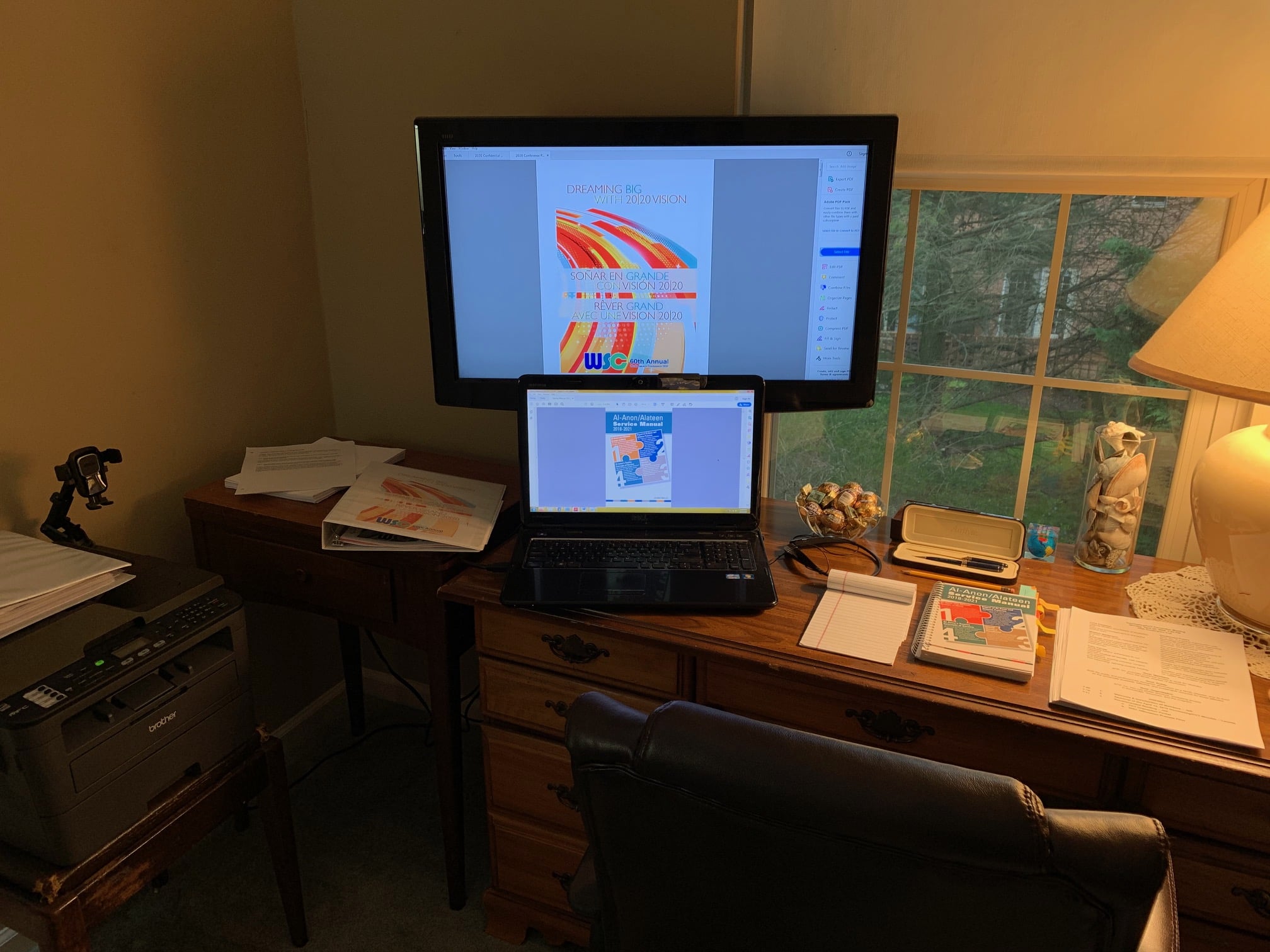 60th World Service Conference Opens
This is the beginning of a multipart series I'm posting on the 60th Annual World Service Conference. The picture above is my assigned seat at the virtual conference — my home office, almost 300 miles from Virginia Beach.
Good morning Pennsylvania Area! It's Tuesday morning, as I write this, and the 60th Annual World Service Conference (WSC) officially opens today. I have been very busy over the last two weeks preparing for the first Virtual World Service Conference (VWSC). The Conference Leadership Team, Board of Trustees, Executive Committee, and World Service Office staff have done a fantastic job of putting together this Conference.
This year's theme is:
Dreaming Big with 20|20 Vision
Rêver grand avec une vision 20|20
Soñar en grande con visión 20|20
I have been struggling for several weeks since it was announced that we would not be having a physical Conference. The agenda has been reduced to cover only items of critical importance. The logistics of bringing together 90-100 people, spread across seven time zones in two countries, has been a daunting task. I applaud the efforts of everyone involved in making this happen, but still, I feel cheated out of being able to attend my final WSC physically. There is a special bond that forms between the members of the World Service Conference, and I am sad that I am unable to have personal face-to-face interactions with my fellow delegates. With the current state of the world, though, I know I need to turn my disappointment over to my Higher Power and ask for understanding, guidance, and help to get me through this trying time.
Over the last two weeks, there have been several training sessions to bring everyone up to speed with the WebEx conference platform. I believe most of the problems have been solved, and I am anxious for the first session to begin. Since our allotted time to meet virtually is limited, many of the discussions are taking place on a specially created AFG Connects forum. This is an interesting way to hold in-depth discussions. We have 24 hours to read the information and respond. Just like in a physical setting, we are allowed one time at the mic (one post per topic) keeping within the two-minute timeline (300 words or less). During yesterday's discussion, I received and read 186 posts regarding the information on three topics. Yes, it's a bit overwhelming!
As a lot of you know, I currently serve as the Chairperson of the Conference Committee on Trustees (CCT). My term will end at the close of the 2020 WSC. Formed in 1984, the CCT, a subcommittee of the Board's Nominating Committee, is composed of  WSC Delegates and elects its own Chairperson annually. The members of the CCT independently review and evaluate résumés submitted for Trustee At-Large and résumés for At-Large members of the Executive Committee for Real Property Management. The CCT's reviews are compiled and provided to the Nominating Committee to assist in their selection of candidates for the Board. (cf. 2018-2021 Al-Anon/Alateen Service Manual V2, pp 205-206)
Yesterday, we held a joint WebEx meeting of the CCT and the Nominating Committee and I found out how difficult it is to chair a business meeting online. We had to affirm the new Chairperson of the committee and needed to select a new Chair-Elect. Voting can always be an issue online, but we worked through the problems and completed the necessary business of the committees. I am honored to have served on the CCT as both a member and as Chairperson.
Well … it's time for me to start getting ready for the opening session. I will do my best to keep you updated as the Conference progresses, so please check back for my next installment.
Your friend in service,
Jeffrey F., Delegate
Panel 58, Pennsylvania