Pennsylvania
Al-Anon/Alateen Family Groups
Pennsylvania
Al-Anon/Alateen Family Groups
Pennsylvania
Al-Anon/Alateen Family Groups
Pennsylvania
Al-Anon/Alateen Family Groups
Pennsylvania
Al-Anon/Alateen Family Groups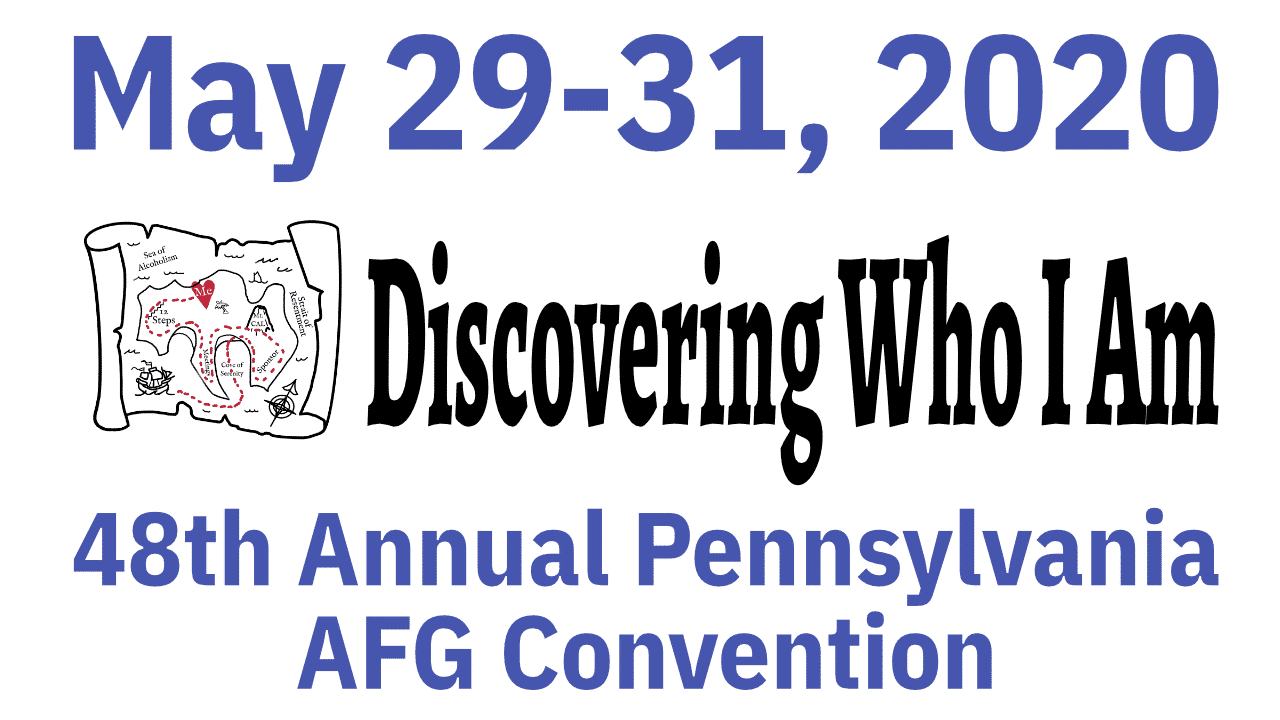 Save the Date
Theme: Discovering Who I Am
Recovery is a journey of discovery. Before we came to Al-Anon or Alateen, many of us couldn't answer the simple question, "Who am I?" But once we found the rooms and we started picking up the tools of the program — the Steps, slogans, our literature, sponsorship, service — we began the process of learning about ourselves.
At this year's convention, we'll continue that journey of discovery. We'll work together — through workshops, listening to speakers, and sharing with each other at meetings and at meals. At times we might cry. At other times we might laugh. We'll hug and we'll try to heal. And throughout the weekend together, we will try to help each other discover who we are. More details will be available by the beginning of March.
Meeting Cancellations:
Please note this is not a comprehensive list, only notices that have been reported to the area will be shown.
Carrying the Message Statewide
Al-Anon has but one purpose: to help families of alcoholics. In Lois Remembers she writes: "If…Al-Anon groups do not let the public know of our presence, perhaps by announcing the time and place of meetings in local newspapers or by some other means, we block ourselves off from those in need." (page 194)
With that in mind, a groundbreaking Public Outreach project, funded by a generous Trust of almost $20,000, kicked off right after the Pennsylvania Area Assembly in August. 
Al-A-Gram
Have you been receiving the New Al-A-Gram? Stay informed about Al-Anon/Alateen news and stories across Pennsylvania. While Al-A-Gram was once a printed newsletter that was mailed to members, it is now completely online and sent directly to your InBox. Click the button below to get more information, see past issues, and to join the mailing list.
Welcome to the PA Area Al-Anon Web Site
There is a message of hope and help in the program of Al-Anon Family Groups. Women, men, and children who were once lonely, lost and helpless because of someone's drinking, today have courage and confidence in Al-Anon and Alateen. They have discovered friends who understand, as few others can. They have found the tools to help themselves – which can indirectly help their alcoholic relatives or loved ones. Contentment and even happiness is possible whether the alcoholic is still drinking or not. Alateen, a vital part of the Al-Anon Family Groups, is for younger members seeking help while walking through life with an alcoholic parent, other close relative or friend. Teens meet to share their experience, strength, and hope, gaining a better understanding of the disease of alcoholism and themselves. The support found in Alateen helps with personal development and the troubled thinking that is often associated with growing up in an alcoholic home.
Let It Begin With Me… When anyone, anywhere, reaches out for help, let the hand of Al-Anon and Alateen always be there, and Let It Begin With Me.
Have an event coming up? Click on the icon above and let us know, so we can post it on the calendar.
Are You Ready? – "Newcomer Preparedness Checklist"
With the holiday season on the horizon, October through December is the busiest time of the year for many people. It is also a period of added stress, especially for families and friends of alcoholics. It is an opportunity to remind us to prepare ourselves and our groups to welcome newcomers who find their way to Al-Anon.