Coronavirus Updates Regarding the PA Area Al-Anon
Pennsylvania
Al-Anon/Alateen Family Groups
Pennsylvania
Al-Anon/Alateen Family Groups
Pennsylvania
Al-Anon/Alateen Family Groups
Pennsylvania
Al-Anon/Alateen Family Groups
Pennsylvania
Al-Anon/Alateen Family Groups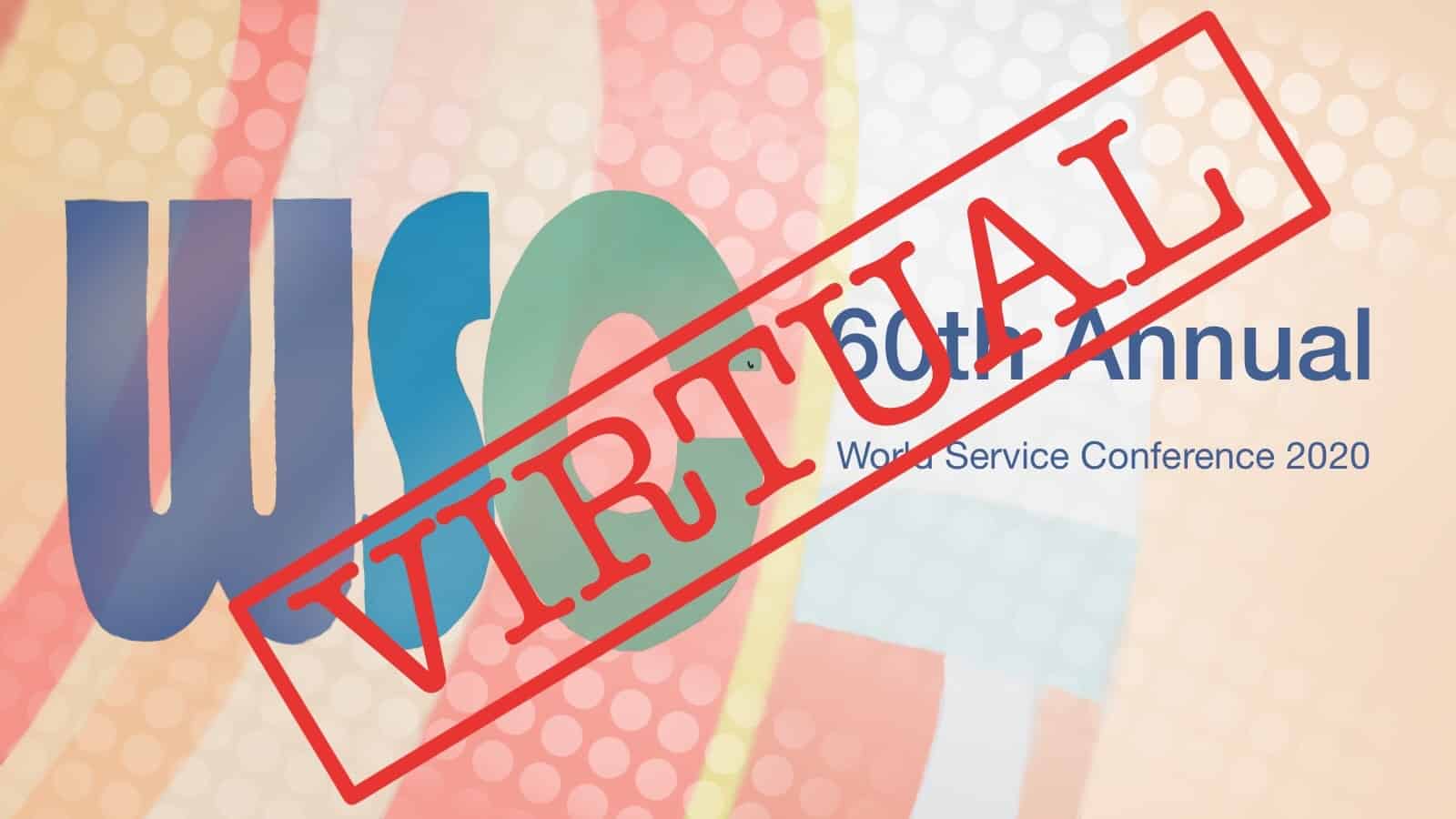 First Virtual World Service Conference
Tuesday, April 21, 2020 — A Home Office somewhere in Pennsylvania
(Updated April 23 and 24)
It wasn't even four weeks ago that the World Service Office announced that the physical aspect of the 2020 World Service Conference would be held virtually. An amazing amount of preparation went into this first-ever Virtual WSC.
The Conference officially opened this morning. Like last year, I hope to write a daily blog of my reflections on the proceedings. All my posts can be found in the Delegate's Corner under the About Al-Anon menu above. The 1st, 2nd, and 3rd posts already live.
If you have any questions regarding the 2020 World Service Conference,  please email me at [email protected] and I will do my best to answer them.
Please remember to check back all this week and follow along as I describe my thoughts on this year's Conference. Thank you all for your continued support.
Yours In Service,
Jeffrey F., Delegate
Pennsylvania Area Assembly
Panel 58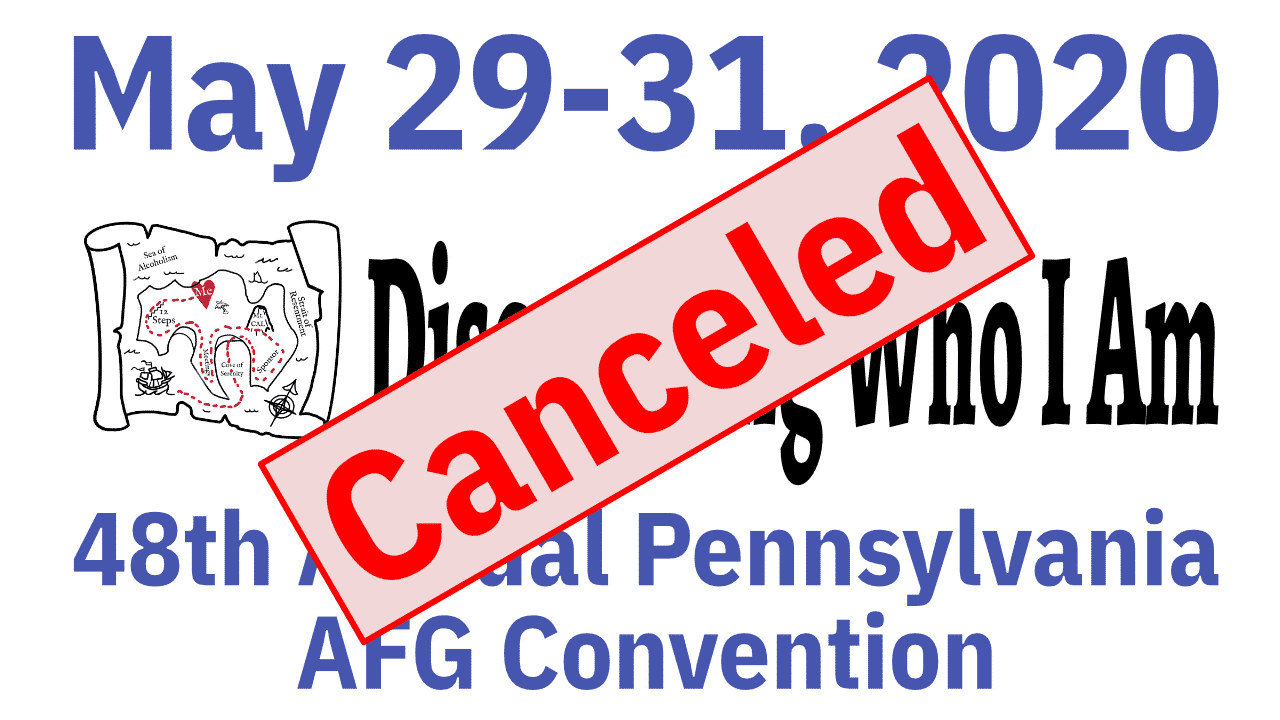 We Set Our Sights on 2021
Tuesday, April 28, 2020 — Selinsgrove, PA
The 48th Annual Pennsylvania AFG Convention has been canceled. Throughout April, the Convention Committee monitored the ongoing COVID-19 situation. They met again over the weekend and discussed postponing or canceling the Convention due to the social distancing guidelines from the Governor's Office. Then on Tuesday, Susquehanna University informed the committee that it had suspended all summer events in line with public guidance. 
For all of you who already paid the registration fee, we will be issuing refunds soon. Those who paid via PayPal should receive their refunds by the end of the week. Those who paid by check should see checks in the mail within two weeks.
Speaking on behalf of the Convention Committee, Joanne C., this year's Committee Chair, stated, "We are all saddened that we can't hold the Convention this year. We had such a great program planned. The good news is that most of this year's committee members have agreed to stay on to plan the 2021 Convention, and we are looking forward to seeing all of you in Selinsgrove next year."
Welcome to the PA Area Al-Anon Web Site
There is a message of hope and help in the program of Al-Anon Family Groups. Women, men, and children who were once lonely, lost and helpless because of someone's drinking, today have courage and confidence in Al-Anon and Alateen. They have discovered friends who understand, as few others can. They have found the tools to help themselves – which can indirectly help their alcoholic relatives or loved ones. Contentment and even happiness is possible whether the alcoholic is still drinking or not. Alateen, a vital part of the Al-Anon Family Groups, is for younger members seeking help while walking through life with an alcoholic parent, other close relative or friend. Teens meet to share their experience, strength, and hope, gaining a better understanding of the disease of alcoholism and themselves. The support found in Alateen helps with personal development and the troubled thinking that is often associated with growing up in an alcoholic home.
Let It Begin With Me… When anyone, anywhere, reaches out for help, let the hand of Al-Anon and Alateen always be there, and Let It Begin With Me.
Have an event coming up? Click on the icon above and let us know, so we can post it on the calendar.
Are You Ready? – "Newcomer Preparedness Checklist"
With the holiday season on the horizon, October through December is the busiest time of the year for many people. It is also a period of added stress, especially for families and friends of alcoholics. It is an opportunity to remind us to prepare ourselves and our groups to welcome newcomers who find their way to Al-Anon.