Coronavirus Updates Regarding the PA Area Al-Anon
Pennsylvania
Al-Anon/Alateen Family Groups
Pennsylvania
Al-Anon/Alateen Family Groups
Pennsylvania
Al-Anon/Alateen Family Groups
Pennsylvania
Al-Anon/Alateen Family Groups
Pennsylvania
Al-Anon/Alateen Family Groups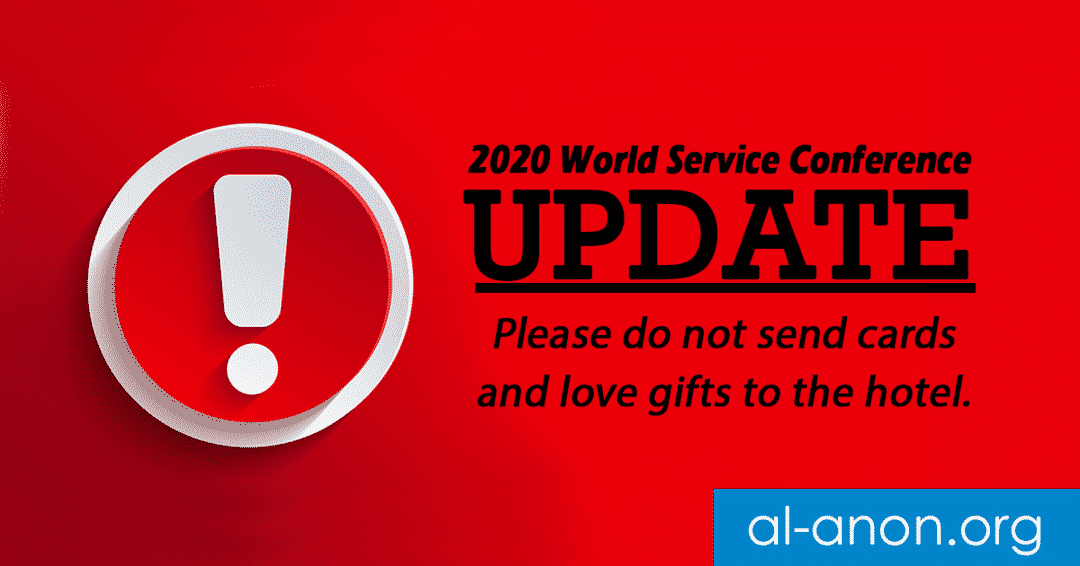 Update Regarding the 2020 World Service Conference
I would like to update everyone on the status of the 2020 World Service Conference. As some of you have already heard, the physical aspect of the 2020 World Service Conference will not be held. The announcement was made via email yesterday to those subscribed to In the Loop — the graphic from that email is above and the text below this post.
In light of government and health authorities' directives, last week the Board of Trustees met to evaluate the options available for holding the World Service Conference. The Board of Trustees gave thoughtful and spiritual consideration to the benefits and cautions of all options. The Board decided to conduct an abbreviated virtual Conference, pertaining only to critical Board matters. The abbreviated Conference will be held virtually at various times during the week of April 20th – 24th.
If you have any questions regarding the 2020 World Service Conference,  please email me at [email protected] and I will do my best to answer them.
Please remember to check back during the week of April 20th-24th, as I will be writing a daily blog describing my thoughts on this year's Conference. Thank you all for your continued support.
Yours In Service,
Jeffrey F., Delegate
Pennsylvania Area Assembly
Panel 58
WSC 2020:  Update to "Send Your Delegate a Note of Support" post in March
In The Loop
In light of government and health authorities' directives regarding COVID‑19, the Board of Trustees decided to conduct an abbreviated virtual Conference—pertaining only to critical Board matters—the week of April 20, 2020 prior to the Annual Board Meeting and conduct the majority of agenda items via AFG Connects or postpone them to the 2021 WSC.
Therefore, we ask all members who were planning to "Write to Your Delegate," to consider other ways to show your support. Please do not send cards and love gifts to the hotel. We know your Delegates and Conference members sincerely appreciate all the hard work that has gone into creating love gifts and encourage you to share them at the Area level since Delegates will be working hard this Conference as always.
Thank you for your help in sharing this message with others who may be planning to mail cards or packages.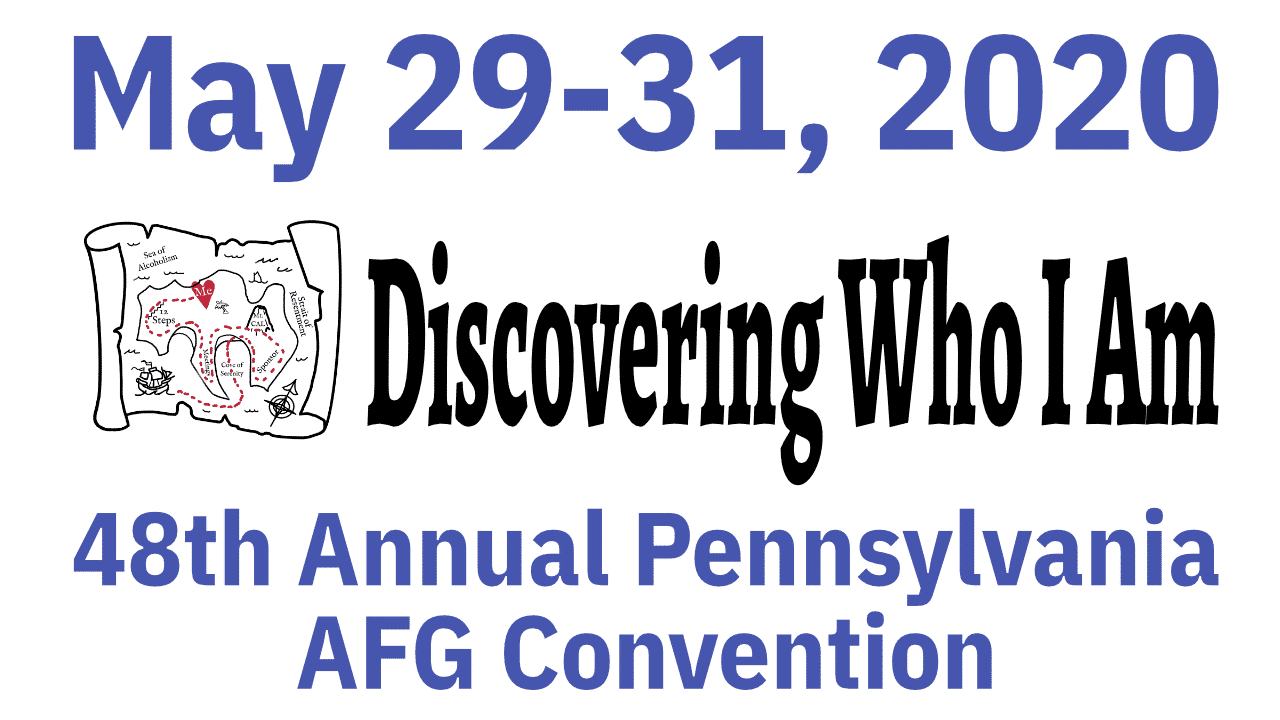 Register Today!
Theme: Discovering Who I Am
See Coronavirus Preparedness for a Convention Status Update
Recovery is a journey of discovery. Before we came to Al-Anon or Alateen, many of us couldn't answer the simple question, "Who am I?" But once we found the rooms and we started picking up the tools of the program — the Steps, slogans, our literature, sponsorship, service — we began the process of learning about ourselves.
At this year's convention, we'll continue that journey of discovery. We'll work together — through workshops, listening to speakers, and sharing with each other at meetings and at meals. At times we might cry. At other times we might laugh. We'll hug, we'll share, we'll listen — and together we can help each other heal and recover. And throughout the weekend together, we can try to help each other discover who we are. 
Download the Flyer and Registration Form here and share it with your Group and your friends. We encourage you to register online by clicking the button below. You can make payments by credit card or check through the online registration system. There are no transaction fees.
Welcome to the PA Area Al-Anon Web Site
There is a message of hope and help in the program of Al-Anon Family Groups. Women, men, and children who were once lonely, lost and helpless because of someone's drinking, today have courage and confidence in Al-Anon and Alateen. They have discovered friends who understand, as few others can. They have found the tools to help themselves – which can indirectly help their alcoholic relatives or loved ones. Contentment and even happiness is possible whether the alcoholic is still drinking or not. Alateen, a vital part of the Al-Anon Family Groups, is for younger members seeking help while walking through life with an alcoholic parent, other close relative or friend. Teens meet to share their experience, strength, and hope, gaining a better understanding of the disease of alcoholism and themselves. The support found in Alateen helps with personal development and the troubled thinking that is often associated with growing up in an alcoholic home.
Let It Begin With Me… When anyone, anywhere, reaches out for help, let the hand of Al-Anon and Alateen always be there, and Let It Begin With Me.
Have an event coming up? Click on the icon above and let us know, so we can post it on the calendar.
Are You Ready? – "Newcomer Preparedness Checklist"
With the holiday season on the horizon, October through December is the busiest time of the year for many people. It is also a period of added stress, especially for families and friends of alcoholics. It is an opportunity to remind us to prepare ourselves and our groups to welcome newcomers who find their way to Al-Anon.