Publications
Here you will find a repository of Al-anon newsletters, magazines and pamphlets.  Many of these are available online for easy downloading, some require a paid subscription for the printed version.

The Al-A-Gram welcomes your submissions!
Service is not only about district meetings and Assembly and AWSC meetings. There are thousands of ways to do service in Al-Anon, and we want to hear those stories and share them with the rest of the fellowship.
We especially want:
Stories about personal recovery through service.
News about upcoming events in your district.
Original photography. In keeping with the spiritual principle of anonymity, please do not identify individuals by name or whether they are members of 12 -Step fellowships.
Original artwork.
Because we are a service arm of Al-Anon Family Groups, we adhere to the Steps, Traditions, and Concepts. Service stories should be written in the first person ("I" and "me", not "you") and focus on the Al-Anon member, not on the alcoholic or other people. The Al-A-Gram coordinators reserve the right to edit stories for language, but we will leave the essential message intact.
The Key
The Key is a monthly publication of the AIS of Greater Pittsburgh Area.  A printed version of The Key will be mailed to your home at a cost of $9 for 12 months.  The latest issue of The Key can also be printed from the PDF on the Pittsburgh AIS web site.  For further information please click here:  https://alanonpgh.org/the-key
Area Highlights
Area Highlights provides service-related news from Areas to all Area Officers, Coordinators, and District Representatives in order to communicate with, motivate, and inform other service-minded members. The articles are compiled from Area newsletters and reports from the links of service.
To view all available issues, as well as submission & subscription information  click here.
The RAP
The RAP is the monthly newsletter of the Al-Anon Information Service of the Delaware Valley. The RAP is available free via Email or a paid subscription to the printed version.
For a complete archive of back issues and to subscribe to this publication please visit AISDV.org
The Forum
The Forum, Al-Anon/Alateen's monthly magazine, contains recovery stories from members as well as news and information from the World Service Office. The Forum provides meeting topics as well as a meeting anytime, anywhere.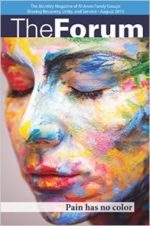 Al-Anon Faces Alcoholism
Al-Anon Faces Alcoholism magazine is our annual public outreach magazine designed to introduce families of alcoholics to Al-Anon and to the importance of family recovery from a relative or friend's drinking. Essential information about Al-Anon, members' stories and articles by professionals are included. 
Don't have a computer?  Does your cell phone send smoke signals instead of texts? Consider getting an E-buddy.  Learn more by clicking the icon above.