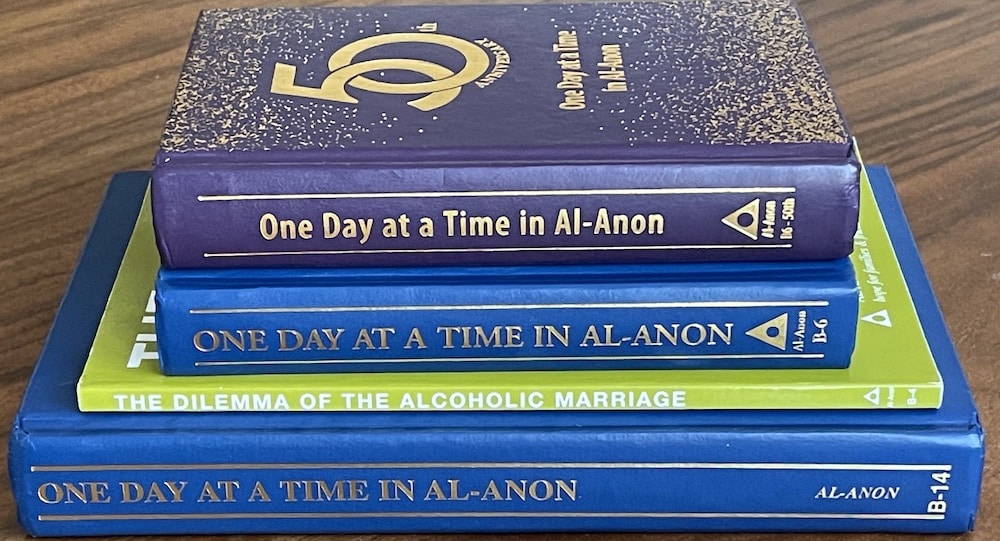 Bookmarks – August – Oh Them Changes
Oh Them Changes…
Can you feel it? The calendar page flips to August and a change takes place.
 The days can still be sticky and hot, but gradually, or sometimes all at once, the evenings shift cooler. Parents, usually moms, are getting children ready for school, or planning that last family vacation before summer ends. My fair-weather feathered friends are booking flights to South America.
The Earth turns on its axis. The days grow shorter.
 My sponsor and I have known each other for years, but our relationship is changing, deepening. We are working through the Steps, using Paths to Recovery (B-24). She says the review is good for her. When we meet, she wants me to read each Step aloud. At home, I read other people's responses within the chapter and answer as many questions at the end of the chapter as I choose. The plan is to read my answers to her the next time we meet and then we talk about them. We're trying to meet every two weeks.
Here's the thing: I need to make time for myself. I don't always do that. Sound familiar? So meeting with my sponsor, reading my literature and answering questions really do help me to focus on myself.
Now, you would think that, for as long as I've been in Al-Anon, I would do that naturally. Ha! I need daily reminders. Otherwise, I default into my old ways of thinking. I become a human doing instead of a human being. I make an infernal list of things to do that never ends. And completing anything on that list has never, ever, given me a lasting sense of satisfaction. Oh, I may feel a brief sense of fulfillment, but it is always fleeting. And then the hellish "to-do" list beckons.
What misery I can put myself through!
 Al-Anon is my antidote. My Higher Power is my salvation.
Once I ask my Higher Power to help guide me through my day, I'm saved from myself. Yesterday, while driving, I got a big fat reminder. It was on a billboard! There were only nine words on a white background: "Be Still and Know that I Am Who Am."
The message was as gentle as a raindrop and as deep as the ocean. The rest of my drive home was in contemplation of how profoundly loving my Higher Power has been and is to me.
I needed to see that billboard yesterday. But I can find the solace of the message in any piece of our literature.
It's just a matter of making the time.
Thanks for letting me share!
Literature/Forum Coordinator