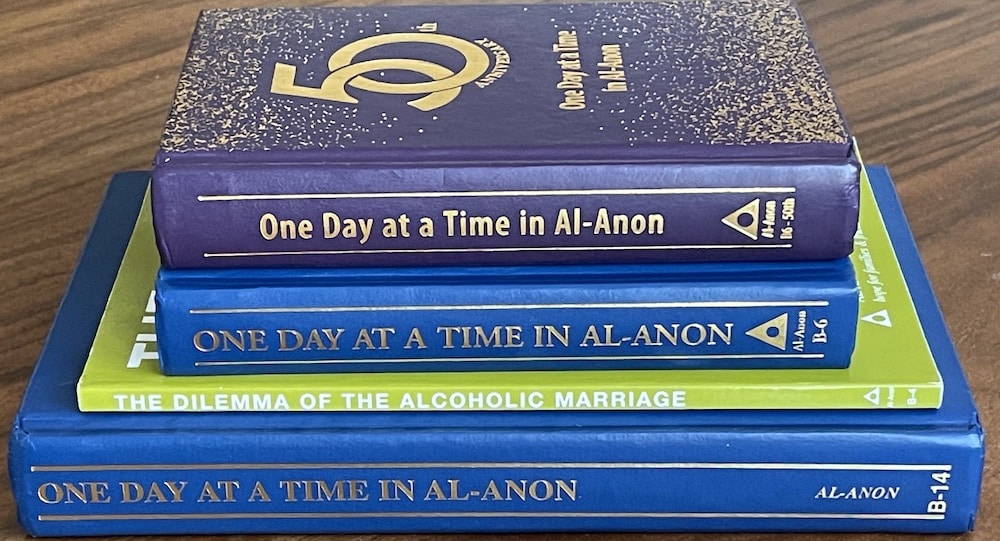 Bookmarks – December – Choose Joy
Choose Joy
"It's the most wonderful time of the year!"
 Or so the song goes.
 Yes, it can be. Or not.
For many of us, myself included, the time before and during the holidays can be marked by extreme stress, and that's not even taking into account active or even recovering alcoholism in the family.
We may burden ourselves with unrealistic expectations and think that we alone must do it all. You know the drill. Pile on a never-ending list of things to do: send out Christmas cards, clean and decorate the house, bake holiday cookies, buy gifts, travel, and on and on.
 But in Al-Anon, we have choices. We can choose—unknowingly, unconsciously—to lose ourselves in chaos. Or we can mindfully give ourselves permission to take extra-good care of ourselves during this action-packed time of year. What a concept!
My dear and funny sponsor said she sometimes feels like she has to have a notarized agreement with herself to do something she enjoys.
I second that. My default tendency is to become a workaholic, unhappy and resentful. But since I've been in Al-Anon, I've moved away from being my own worst enemy to my own best friend. This process began with the recognition that my own thinking and behaviors can lead me straight into Crazy Town.
So, this month, I'm going to take it one day at a time and ask myself How important is it? I'm taking at least a half hour for myself, to recharge my batteries. I'm going to my meetings, talking with my sponsor, and reading my Conference Approved Literature, especially, right now it seems, The Forum.
A subscription to The Forum is that little gift I give myself. The beauty part is that the readings are short. It's not hard to find the time to read a one-page article, a piece written by someone who knows just what I am going through and can offer me a bit of perspective or even inspiration.
This month I need to renew my subscription and the gift subscription I got for my sister-in-law in California. She told me she enjoys reading it. It's one of those "good things come in small (unmarked) packages." And it's only $11 a year.
You might want to gift yourself with a subscription. You can order anytime through the AFG website, al-anon.org, or call the Al-Anon Family Group Inc. at (757) 563-1600 Mondays through Fridays from 8 a.m. to 5 p.m.
So yeah, this holiday season, I'm going to pace myself. I'll get the things I need to do done, along with the things I want to do.
Every day is an opportunity to choose joy.
I wish you all the blessings of this holiday season.
Thanks for letting me share!
Literature/Forum Coordinator