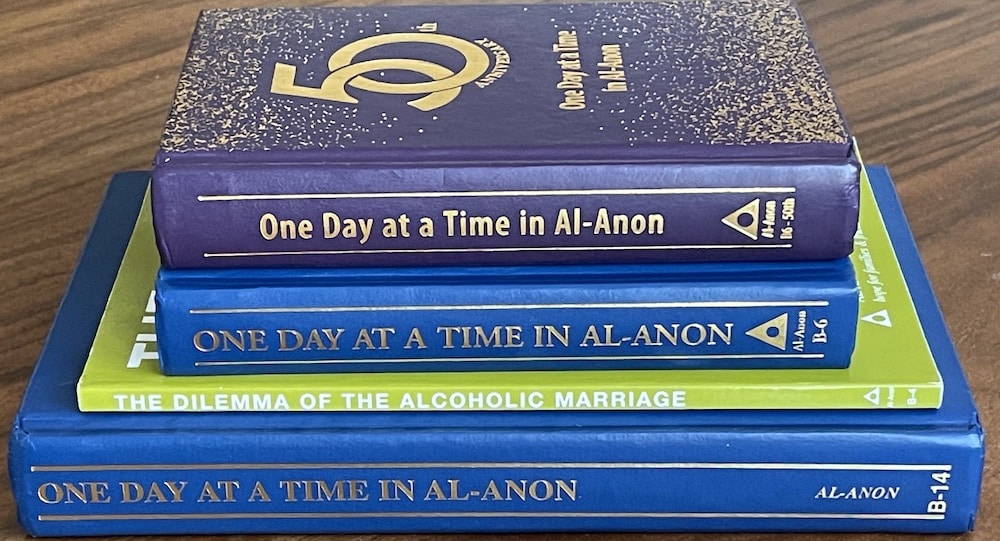 Bookmarks – January – Going Beyond the Three Readers
Our three daily readers offer a treasury of Al-Anon wisdom.
But it wasn't until my sponsor started going beyond the readers while chairing our home group meetings that I really came to see the depth and variety of our Conference Approved Literature (CAL).
My sponsor is also a past Area Literature Coordinator. By sharing her knowledge, our home group has become more aware of CAL. It has really expanded my appreciation for our rich literature as I try, one day at a time, to become the best person I can.
I believe my sponsor first started with How Al-Anon Works (B-32). What an eye-opener that was for me!
As the preface states, "This is the essential book on Al-Anon Family Groups. It answers every question we might think to ask including, 'Can Al-Anon help me?'"
The book draws its down-to-earth wisdom "from thousands of Al-Anon members sharing their very personal experience, strength and hope.
"Sparks of recognition and understanding flash again and again as we begin to grasp the enormous impact the alcoholism of someone close has had on our physical, emotional and spiritual well-being."
"To the millions of men, women, and children who have been affected by the alcoholism of another, this book extends the most precious of all gifts—hope."
I don't recall where our group may have started with How Al-Anon Works. It was probably with the Steps. Each of our group's members would read a paragraph and comment (or not) on what they had read meant to them.
We now use How Al-Anon Works regularly; most of our membership have a copy of the book, which costs $6.     
How Al-Anon Works is broken into two parts: The Al-Anon Program and Al-Anon Experiences. Our group meetings have focused on the program section. It begins by going more deeply into the family dynamics of alcoholism, the part we play in it, and how understanding and awareness of alcoholism can begin the process of change in us. Then Part One gets into the nitty-gritty of Al-Anon. These include discussions on the Twelve Steps, the Twelve Traditions and the Twelve Concepts of Service , as well as the Al-Anon slogans; detachment, love and forgiveness; taking care of ourselves; communication; and service.
Part Two of  How Al-Anon Works highlights many detailed personal stories of experience, strength and hope. Each one illuminates the process of moving from lives of fear and despair toward lives of serenity and even joy.
But our group finds Part One most useful for our meetings because, I believe, it talks about the tools of the program and how to actually practice them in our daily lives.
Our group also taps into other CAL for meetings, but aside from the three daily readers, How Al-Anon Works is a mainstay.
Through a group consciousness meeting, we decided to give a copy of the book to all newcomers. I know of other groups that have done the same thing.
Unfortunately, our experience was that newcomers would gratefully take the book and never return. Maybe they thought that's all they had to do: read the book and things at home would improve. I think I can safely say that's not how it happens!
But for groups looking to expand beyond the daily readers, How Al-Anon Works can be a revelation.
Give it a try!
Thanks for letting me share.
Literature/Forum Coordinator