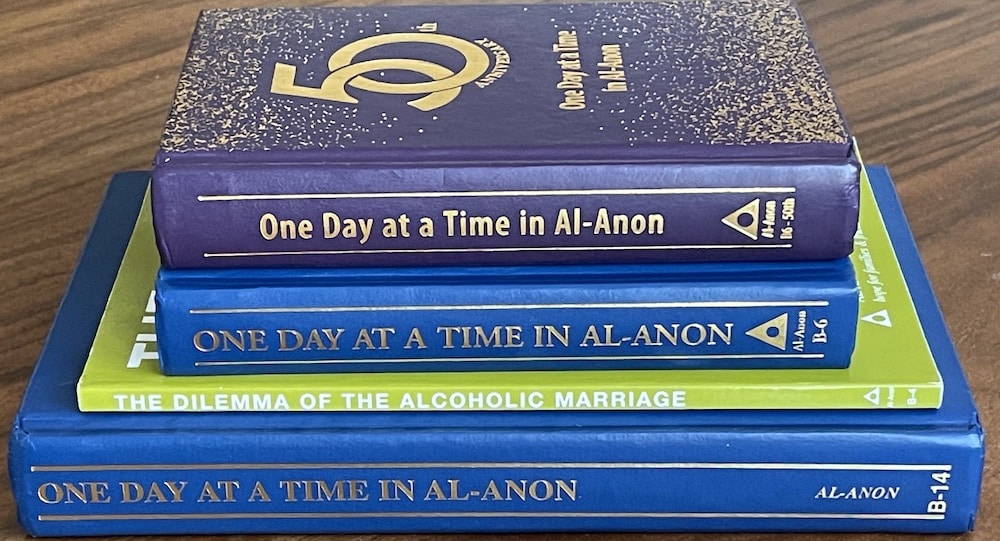 Bookmarks – October – A Transitional Time
Falling leaves and bright, crisp days are October's calling cards.
Autumn is also a transitional time for our fellowship as three-year terms of service come to an end in December. Folks are being asked to ask themselves about their willingness to step up.
Service in Al-Anon, I have found, is unlike similar roles in other organizations. It is joyful and collaborative. It is challenging and fun. It has taken me on a journey of growth.
My first service role was as treasurer for my home group in Ebensburg, in south-central Pennsylvania. I think it was 2012. We needed someone to handle our finances. I knew I could keep accounts straight. I had the time and I was willing. My predecessor showed me the ropes.
And so it began.
I was always interested when our Group Representative (GR) shared information from the (then mysterious, to me) Pennsylvania Area and the World Service Office (WSO). It was clear that our little group was part of a much bigger picture. We learned how to take a group inventory and the hallmarks of healthy meetings.
I didn't know what I was doing when I raised my hand to stand as GR when his term ended. The vote (with sighs of relief!)  was unanimous. He gave me his neatly organized binder full of Al-Anon information. He answered my questions and showed me what I needed to do. I did not think of it as "a job." I had the time, the interest and I was willing.
My first Assembly blew me away. But I loved it. I was overwhelmed by the agenda and the amount of work we did. But that Friday night I went to the group meeting in the Hershey Hilton and was transported into a level of sharing I had never experienced. We all had walked into that room as strangers and left with the warm feeling of community. My people!
I really didn't knew what I was doing as District Representative (DR). But when I stepped into that position, I found the truth in the saying "You never do anything alone in Al-Anon."
There's another saying that service reveals your character defects—procrastination being one of my biggies. But in any of my Al-Anon service roles, no one has ever faulted me for that. We're all doing our best. Sometimes I'm on top of my game, sometimes I'm not. I've learned to give myself a break for being human.
Service, for me, is not "just" about serving others. I have found it to be a service to myself, a way to explore gifts I hadn't realized I had. And it has always been a way to connect with some of the most dynamic, spiritual, caring and fun people I have ever met. Service is about sharing the Love!
 I would encourage anyone considering a service role to read When I Got Busy, I Got Better (P-78). It is only $4 and it is one remarkable little booklet.
It begins by addressing fear and the many ways fear can hold us back. I think it was a brilliant way to introduce the whole notion of service. The lion's share of the booklet is titled "In Giving, We Receive." That is absolutely true for me.
It ends with "Our Common Welfare," which taps into how each of the Twelve Traditions incorporates service.
When I Got Busy, I Got Better, in my humble opinion, is packed with deep wisdom. It also offers a call to action. I would be surprised that anyone who reads it, cover to cover, would not want to be of service to our fellowship.
We help one another in Al-Anon. Don't we want it to always be available? I sure do. So I serve with gratitude and joy.
The New Reader is Coming Soon!
Orders for A Little Time for Myself (B-34) are slated for delivery by the middle of this month.
An equipment breakdown delayed the original August reorder, according to Lori F., our outgoing delegate and incoming panel chair.
Take the Survey by Oct. 31
I was reading through The Forum this month and saw a "We Need Your Help" notice on page 18.
It asks that we take a survey on Conference Approved Literature (CAL) to help the WSO better serve the needs of our fellowship.
I resist taking surveys. But I did it, because, hey, this is Al-Anon and I want to be of service.
It took about five minutes to complete, and that's including the time it took me to check all my CAL book titles.
The notice says: "Please go to al-anon.org/cal-survey by October 31 to complete the survey, and please share this request with others in your group."
Please do your part. It's service!
Thanks for letting me share!
Literature/Forum Coordinator