Delegate's Letter – October 2022
"Passing it on" – through the Links of Service!
From the Group Member to the World Service Conference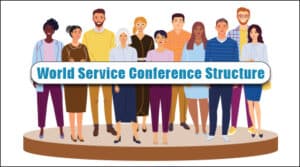 I so LOVE the new WSC Structure Graphic and I hope you find a blessing in it too!!
At our 2022 PA Area Assembly, I had the wonderful opportunity to collaborate with Sarah S., Director of Programs of the World Service Office, to present a segment on our Al-Anon Links of Service. In this article I am sharing the information we put together with the hope to provide our membership with a deeper understanding of the importance of our Links of Service and the spiritual principles that guide us along the way. Seeing how our Al-Anon structure fits into one's recovery can encourage service at all levels!
Please click here to read the full article on the Links of Service:  "Passing it on" – though Links of Service.