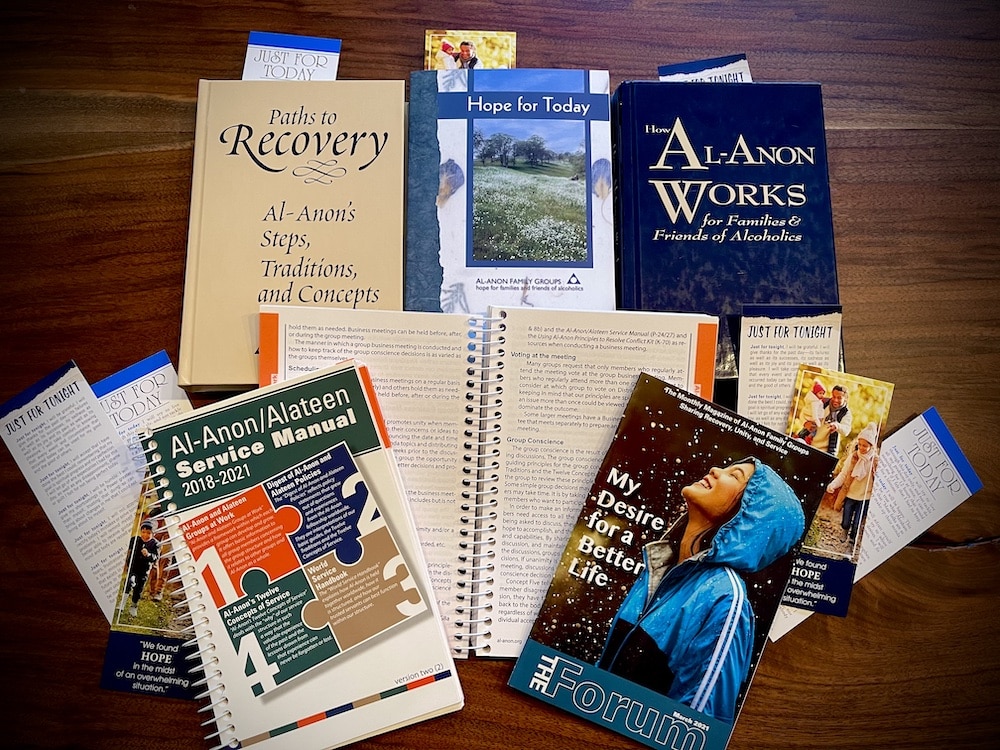 Bookmarks – We are all experts … and we are all beginners
That line jumped out at me when I heard Barb O. quote it last month during a workshop called "Many Voices in a Group Conscience." It came from How Al-Anon Works (B-32).
I decided to join the virtual South Carolina AFG Annual Convention to see how the South Carolinians in our Al-Anon family were going to run it. I wanted to take notes since I'm on the planning committee for our first virtual PA AFG Annual Convention this June.
What blew me away was how heavily they relied on our Conference Approved Literature.
What blew me away was how heavily Barb and her co-chair Margaret relied on our Conference Approved Literature. It was both staggering, and, well, enlightening.
Somehow I had thought that all I needed to know about a group conscience could be found on page 51 of the Service Manual (P-24/27). And while those three paragraphs concisely describe what a group conscience is and how to achieve it, I was intrigued by the possibility, through the workshop, of a deep dive into the group conscience process.
It was much more than I expected.
As the Service Manual states: "The guiding principles for the group conscience are always the Twelve Traditions and the Twelve Concepts of Service."
Margaret read Tradition Two: "For our group purpose there is but one ultimate authority—a loving God as He may express Himself in our group conscience. Our leaders are but trusted servants—they do not govern." Then she went to page 45 of Paths to Recovery, which in part states: "By being part of an informed group conscience, gathering the information we need, letting our loving God guide us, and remaining trusted servants, we are all part of the group and support its decisions."
Margaret called the group conscience "the most powerful thing we have in our fellowship."
She referenced page 85 of Hope for Today, which talks about the need for everyone in the group to be part of a group conscience decision.
Barb observed that the pandemic became an "excellent laboratory" for using Knowledge-Based Decision Making (KBDM) and the group conscience process because groups had to decide how they were going to meet: in person, virtually, as a hybrid, or not at all.
To put a sharp point on the meeting question, what do you do when group members say the Covid-19 virus isn't real? Donna, the Georgia 2022 Convention chair, said that's what happened in her state.
She said they used the group conscience process to solve the dilemma, asking everyone to participate and to vote by mail, so anonymity was maintained.
(I frankly don't know how the vote ended, since Donna spoke during the comment portion of the workshop, and I didn't have the sense to ask the question in the Chat function of the Zoom meeting.)
they voted for it, underlining the importance of hearing everyone
Margaret recalled that before Hope for Today became part of our three daily readers in 2002, many members of the Area World Service Conference were going to vote against it. But after a full discussion, they voted for it, underlining, she said, "the importance of hearing everyone."
Just as an aside, can you imagine not having Hope for Today and all the wisdom it holds? I can't.
I came away from the South Carolina Convention as I do from any group meeting: with a renewed sense of serenity, grateful for the fellowship, and, hopefully, a little bit wiser.
Thanks for letting me share,