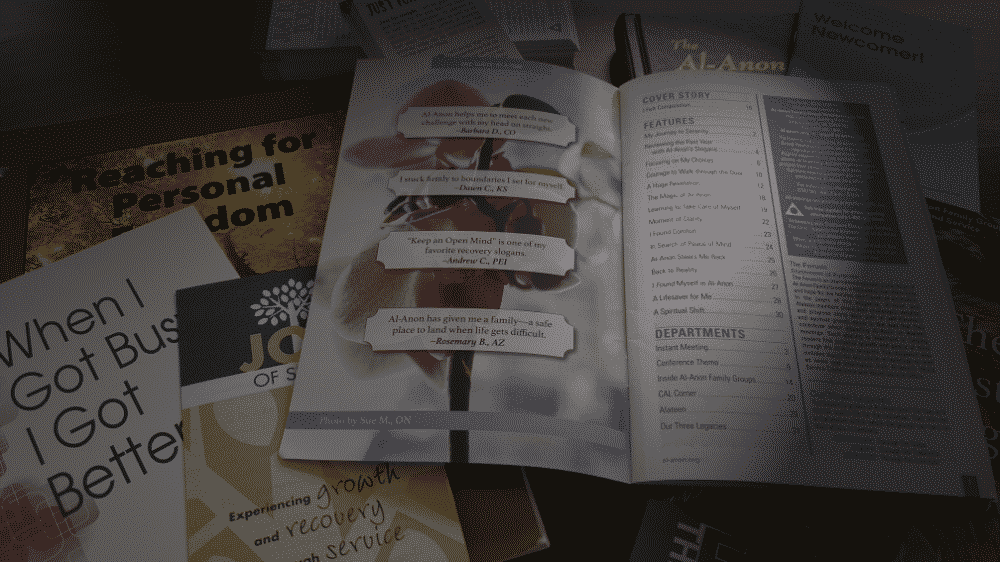 Bookmarks – Introducing our New Literature/Forum Coordinator
Hi! I'm Ellen C., your new coordinator for Literature and The Forum magazine.
Let me give you a bit of my background:
My homegroup is Ebensburg AFG, in District 15, which is part of the Central Sector. We meet virtually at 7 p.m.  Mondays.
I got into service as my group's treasurer in 2012 and found that I enjoy service. I've held service positions ever since, most recently as District Representative.
Through service, I have had the priceless gift of getting to know an ever-widening circle of Al-Anon members who live the Al-Anon way of life. They inspire me.
The readings and sharings deepened my understanding of how I can live at peace with myself and others in my life.
Our literature also inspires me, especially at meetings. A topic from one of our books becomes the focus of sharing our experience, strength, and hope. The readings and sharings have deepened my understanding of how I can live at peace with myself and others in my life. My understanding of my Higher Power has also expanded through Al-Anon.
My first year as DR was hard because I didn't know what I was doing. There were times I just wanted to run off. Gradually, one day at a time, I found my way. And I truly came to believe that in Al-Anon, you never do anything alone.
But I'm not being hard on myself this time around. There's a good quotation from Courage to Change (B-16), page 107: "The only person who can love me the way I want to be loved is me." Through Al-Anon, I have changed from being my own worst enemy to becoming my best friend.
So I ask for your patience as I learn the ropes with my new Literature Committee members, Barbara S., DR-18 (Pittsburgh area), and Debbie M., AISDV (Area Information Service of Delaware Valley).
We all have stories to tell
In our new roles, I hope we will encourage you to read inspiring Conference Approved Literature (CAL) and to write about your own experience, strength, and hope. We all have stories to tell!
Are you looking for new CAL? There's a lot to choose from. Right now, if you go to the Al-Anon Store on the www.al-anon.org website, the shipping cost is only $5 for orders of $50 or less.
If you've gone there and found that the literature you want is out of stock, try Literature under the Resources tab of www.pa-al-anon.org, our state website. We may have what you're looking for. The shipping cost is $8 for as many items as you want to order through the LDC (Literature Distribution Center) #6, located in Shrewsbury. The AIS of Greater Pittsburgh also has an LDC.
Valentine's Day is this month. Why not give a gift to yourself by purchasing a new book or subscribing to The Forum?
It's all about loving yourself!