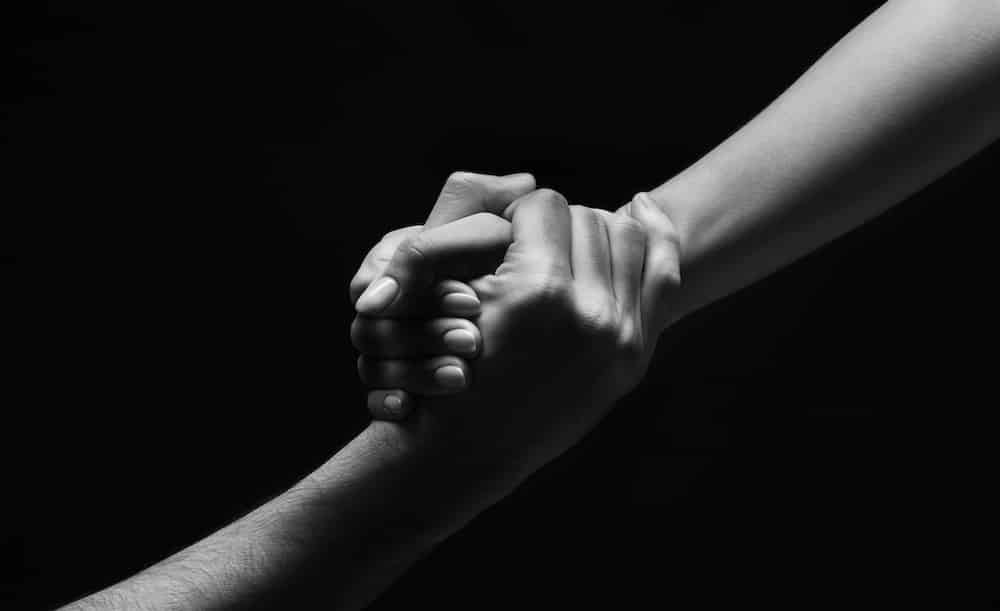 "Rotation of Service" – I see its beauty today!
Why Rotation of Service? Early in my service journey, a friend shared with me the wisdom of her '4Cs of service,' and for that, I am very grateful – 1st year in a service position, I am confused; 2nd year, comfortable; 3rd year, confident; and 4th year, cocky. Oh, how I have found that to be true. I have felt all four of these over my time in service so far, and it lets me know that I am not alone. The 4Cs drive home for me the guiding principle of Tradition 2 that "Our leaders are but trusted servants – they do not govern." And it also shows me the growth that can await me when I serve. Rotation of Service increases my humility, adds to the health of the group, and puts the fellowship into the hands of the God of my understanding. And that's a great place to be!
​​I am awed by the recovery that comes from service and the benefits that come from Step 10's reminder to continue to take my personal inventory. Thinking back to my first Assembly as Group Representative, I remember feeling so small. But I also remember attending one of the Assemblies as District Representative (6 years later), and I wasn't afraid!! I was at peace with myself and others. I could not believe it! It felt like it just happened, like a flip of a switch. But I came to realize it was years in the making. And yes, I was able to serve Al-Anon because someone else stepped down from a service position. It's that simple. It's a beautiful thing!! What a blessing to give that opportunity to another.
There are many gifts of service that I receive each time I take a new service position. This quote from our pamphlet, Joy of Service (S-57), highlights some of them: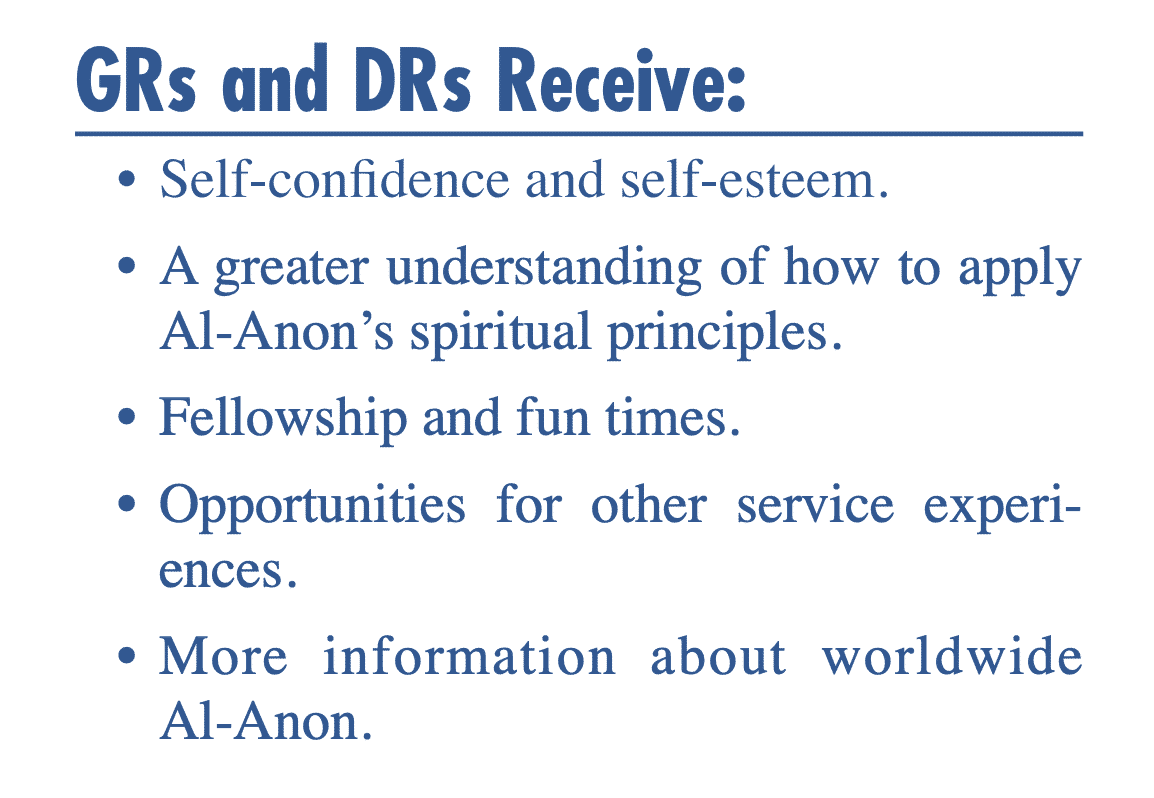 I can relate to these and have learned so much from each service position with each new day. "Just for today… I will learn something useful…I will be unafraid." (Just for Today, Al-Anon Bookmark (M-12))
So why else do we have Rotation of Service in Al-Anon? Rotation of Service is packed with many of the spiritual principles of our program. Here are just a few: Tradition 9 tells us Al-Anon ought never be organized. Rotation of Service assures that. Concept 4 tells us participation is important. Rotation of Service then leads to harmony. Concept 9 tells us good personal leadership is a necessity. Rotation of Service gives that opportunity. Tradition 12 tells us we are all equal. Rotation of Service illustrates that. Tradition 2 tells us God is in charge. Rotation of Service champions that. All the Steps allow us each to grow in our relationship with the God of our understanding. Rotation of Service calls us to practice humility. When experiencing Rotation of Service, I can see now how Al-Anon is not dependent on one single person or a selected few for its future.
Thank God! Moreover, the 'We' that is embodied in Rotation of Service leads to 'unity and perhaps even survival' of our groups and our fellowship as a whole.
On an important aside, I would like to ask you, "What are you thinking about doing next in Al-Anon?" (check out Links of Service (S-28) for some ideas). It may be time to stir into flame the spark you lit in others for service. When was the last time you read (or re-read) or shared the book, When I Got Busy, I Got Better (P-78)? What a gem! Pass it on. Moreover, it may be time to act on what is on your heart. Keep it simple. Ask yourself: "Am I willing?" I can't wait to see what you do next. 😊 Thank you for your service!
I am grateful for the many opportunities that have been given to me to serve Al-Anon. Please pray for me and be assured of my prayers for you and our life-giving fellowship. I look forward to crossing paths with you on this road to recovery.
Keep your Just for Today bookmark close on your service journey, along with the rest of your service toolkit.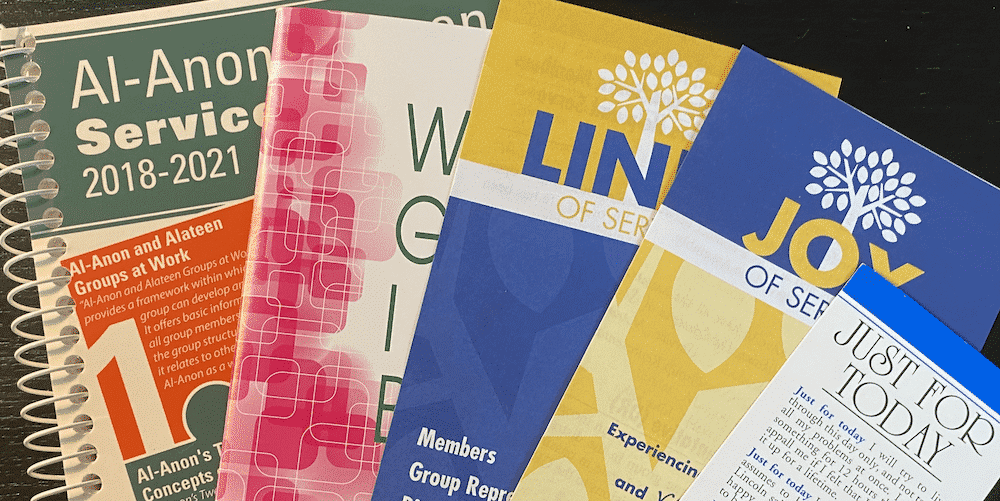 Your friend,
Lori F.
Alternate Delegate
Panel 58 – 2018-2020