Sunday — Conference Officially Opens
This is part 3 of a series I'm posting on the World Service Conference. Check out my first and second posts if you haven't already read them. And thank you for all the great messages and words of encouragement. As you can see above, I have all the cards set up in my room as a reminder of why I'm here.
Good morning from the World Service Conference. It's Sunday and that means things are about to get very, very busy. The conference officially opens at 8:00 am and the agenda for the next 4 days is full. I am anxious to get started with the work I and the others have been sent here to do.
Yesterday I was affirmed as the new Chairperson of the Conference Committee on Trustees (CCT). Last year at my first CCT meeting, I was told that being on this committee was a three-year assignment. Our committee works in the "background" along with the Nominating Committee, reviewing and evaluating résumés submitted for Trustee At-Large and résumés for At-Large members of the Executive Committee for Real Property Management. Because of the confidential nature of the work we do, our work mostly goes unnoticed. The committee members take pride in the work done and understand the importance without acknowledgment for what we do.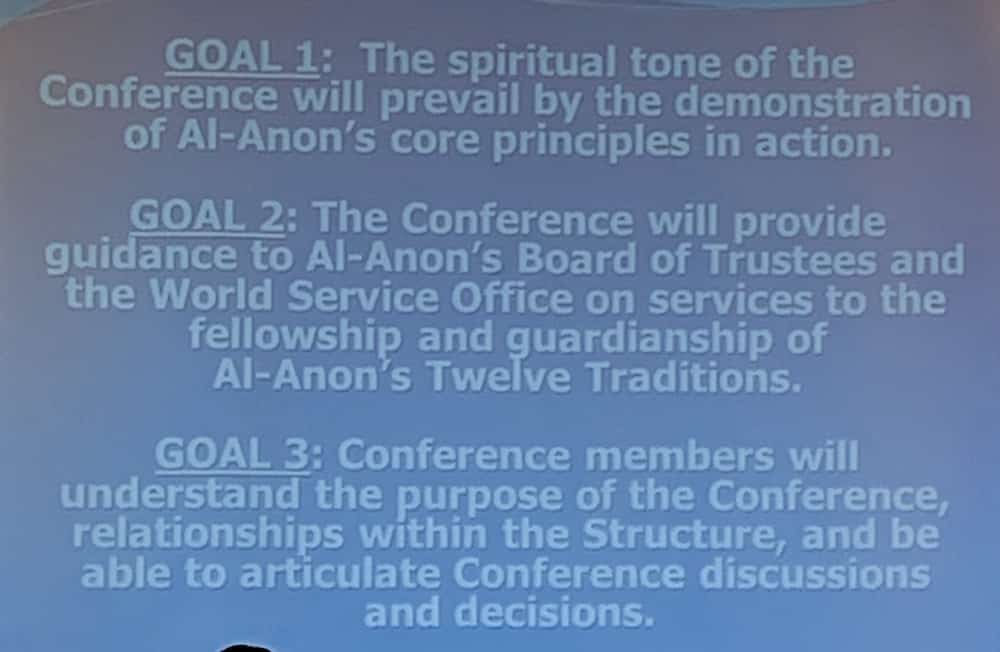 2019 World Service Conference Goals
The delegates got together in the afternoon for the Sharing Area Highlights meeting. The interesting thing about this meeting is that it is run by delegates and only for delegates. An invitation is extended to the Board of Trustees and Executive Committee to attend as guests and observe, but they have no interaction and do not interfere with the proceedings of the meeting. We had an ice breaker, similar to "speed dating", that allowed us to meet the Panel 59 delegates and reconnect with our friends from Panel 57 and Panel 58. Delegates shared what is happening in their Area and I was excited to hear what is being done across the United States and Canada.
Last night's opening dinner was quite a spread. Beef and fish tacos, chicken kebabs, salad, macaroni & cheese, vegetables, vegan tomato soup, and of course dessert, pound cake with strawberries, strawberry or chocolate sauce, and whipped cream. We do eat well and the food is very good. Sometimes I think meals are the best part of the conference, but then I remember the important work is what really is the best part of the World Service Conference.
The bell just rang which means it's 7:58 am and I have 2 minutes to get to my seat. We always start on time. Thanks for reading and for your support.
This is part 3 of a series I'm posting on the World Service Conference. Check out my next post in the series.
Your friend in service,
Jeffrey F., Delegate
Panel 58, Pennsylvania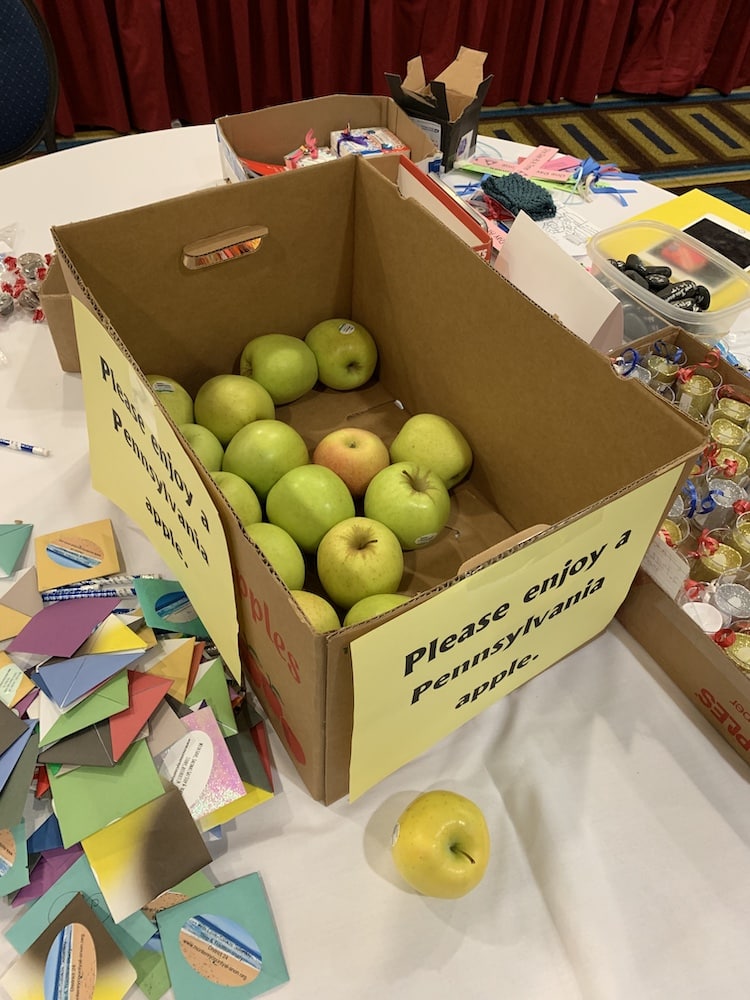 In the Hospitality Suite is a table filled with "Love Gifts" which are little things each Delegate brings — a little something from home — to share with fellow Delegates. Keeping up with the tradition that Barbara, our previous Delegate started, I brought Pennsylvania apples.