Thursday — It's Over
I can't believe it's Thursday morning and I still had to get up early. No meetings, no early morning flight, no delegate or conference responsibilities. The conference is over and I'm worn out. So why did I have to get up early you may ask? The reason is a little selfish. I had to get up early because I wanted, no needed, to say goodbye to conference members leaving early today. I found myself in the lobby just after 7:00 am talking to the Delegate from the Texas West Area. I looked across the lobby and saw my friend from the New York North Area and went over for a hug. Some others were scurrying around anticipating the arrival of the shuttle to take them to the airport. We only had a moment or two and then they were gone.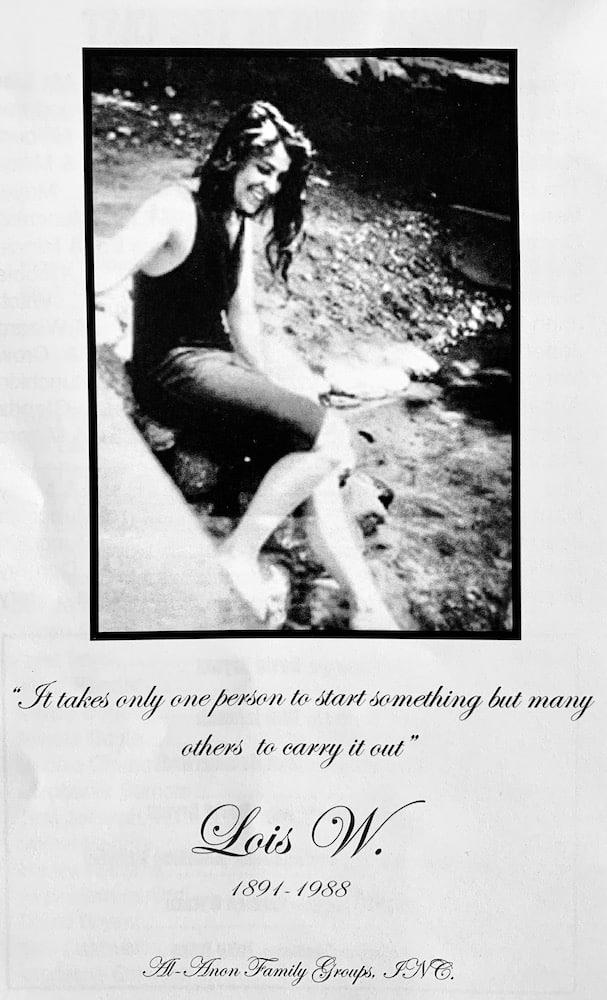 A quote from Lois W. — "It takes only one person to start something but many others to carry it out." A great message as the Conference carries on this legacy.
I went up to our dining area and found many more people talking and laughing and enjoying a cup of coffee or tea together. And yes, there were even some tears. I stood there for a moment in the entrance just watching everyone. You see, after spending time with these people, you develop more than a working relationship. You develop lasting friendships with deep emotional and spiritual bonds. I felt a tear in my eye and I wasn't sure I would be able to find the words to say goodbye. I have only been to two conferences, but the thought that I may never see some of these individuals again makes me sad. We have every intention of keeping in touch and a lot of offers of "call me if you're ever in the area." Unfortunately, I know that will probably never happen and this will be the final connection between some of us. And this is why I HAD to get up early.
So what happened yesterday? We had two great breakout sessions in the morning for discussing Chosen Agenda Items (CAI). The topics are proposed and decided on, based on concerns or needs of the fellowship. The first CAI was a discussion on "Electronic/Virtual Meetings" for District and Area business meetings. We discussed the pros and cons of having virtual meetings and it was interesting to find out what other Areas are doing and why they are doing it. The second CAI was a topic near and dear to me, "Encouraging Service". Those who have heard me speak know I believe service is very important, not only for the good of the fellowship but also for personal growth in our lives and our programs. I will be bringing ideas back to report on these Chosen Agenda Items.
The afternoon was spent wrapping up the agenda with some personal sharings from members of Panel 57, reflections and takeaways of the conference from individuals, a summation from the Chairperson of the Board of Trustees and a final strike of the gavel from the Conference Chairperson. The Annual Open Board of Trustees meeting was held at 4:00 pm followed by the closing dinner and spiritual speakers.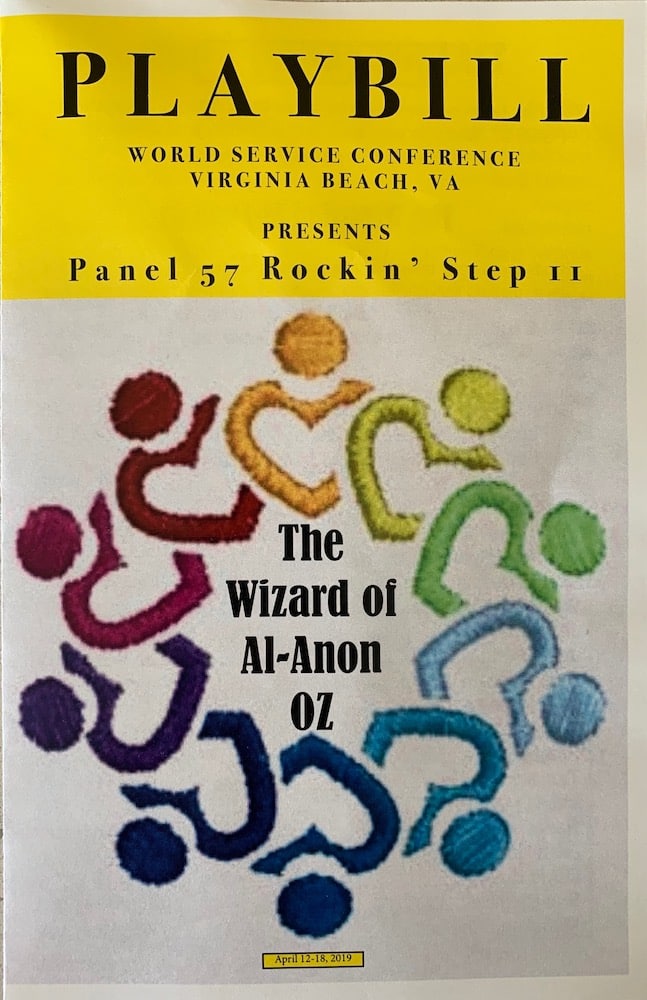 What a week! And just to let you know we have a little fun. We were treated to a Broadway type performance — written, directed, and performed by the outgoing Delegates of Panel 57 — of The Wizard of Al-Anon Oz. It was a perfect end to the 59th World Service Conference.
I want to say thank you to the Pennsylvania Area website committee for making it possible to post these daily updates. I want to send out a special thank you to Ralph H., District Representative, District 31, for doing the editing, adding the pictures, and getting the posts online quickly every day. This wouldn't have been possible without his help. Lastly, I wish to thank you for reading this, and I hope you have gotten a small glimpse of what happens on a daily basis at the World Service Conference. Check back in a day or two to see my visit to the World Service Office.
Your friend in service,
Jeffrey F., Delegate
Panel 58, Pennsylvania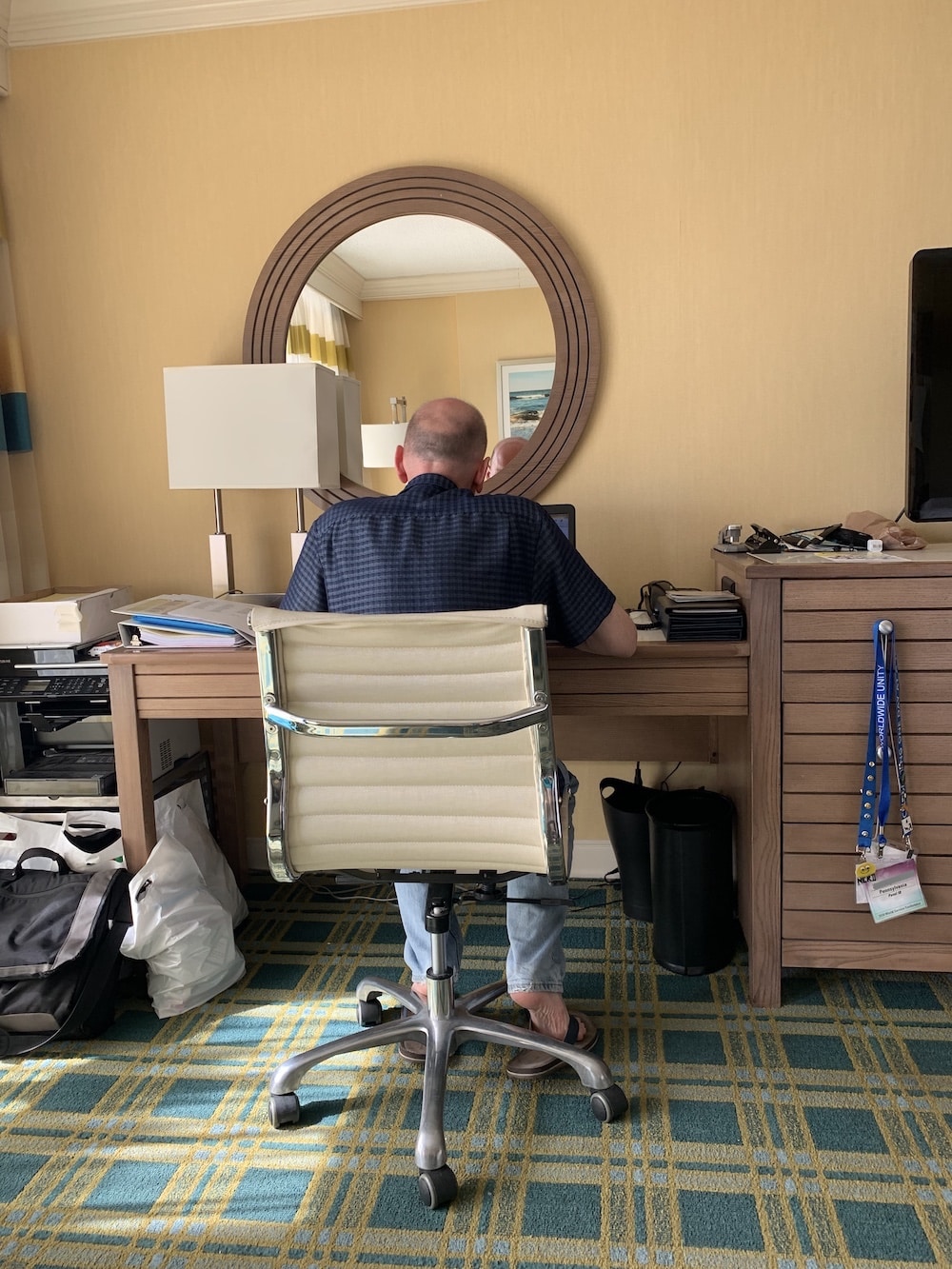 Me at my desk writing this last post for the Conference.